These healthy Halloween treats are a great way to satisfy your sweet tooth, without relying on processed candy bars and artificial food dyes. Everything below is ridiculously easy to make, and is sure to get you into the Halloween spirit!
Halloween Treats You'll Love
Below, you'll find some of my favorite Halloween recipe ideas. With just a few simple tweaks, you can turn an everyday recipe (like a green smoothie) into a more festive holiday treat!
1. Frankenstein Smoothies
How do you make your favorite green smoothie even more fun? Use a dry erase marker to draw a Frankenstein face on your glass!
Tip: Draw the face on the outside of the glass before pouring the smoothie in. It will only work when the glass is very dry, and then be careful not to touch the face before serving, so it doesn't wipe off!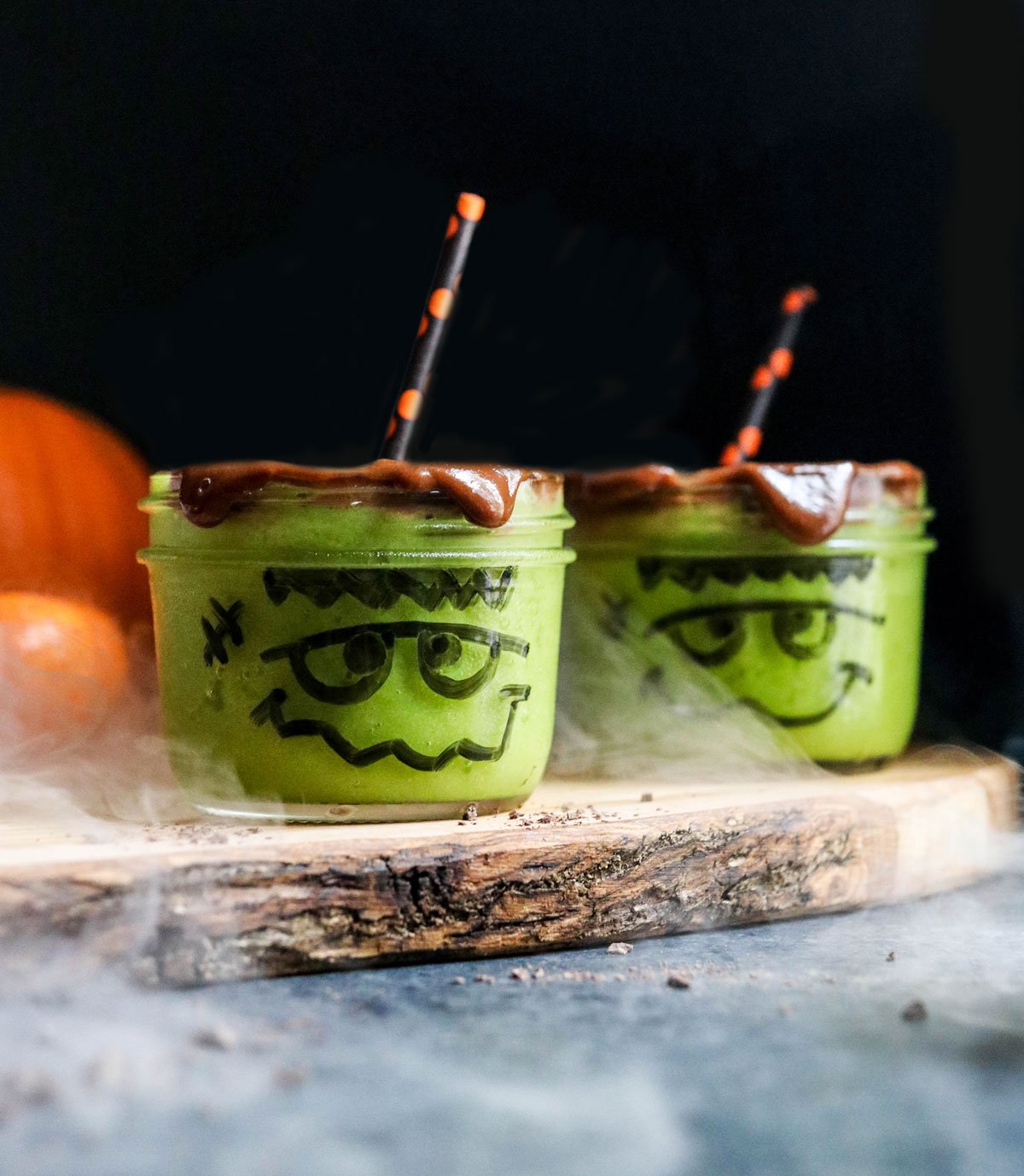 Here are more green smoothie recipes that will work:
I topped my smoothies with an easy 3-ingredient vegan chocolate sauce for Frankenstein's "hair" but that's totally optional.
3. Banana Ghosts & Orange Jack-O-Lanterns
This literally takes less than 5 minutes to assemble. Stick a few mini chocolate chips into half of a banana, and it looks like a ghost! I stick mine on popsicle sticks, and my daughter is obsessed!
You can freeze them for frozen treat on a stick, too. Frozen bananas have the texture of ice cream!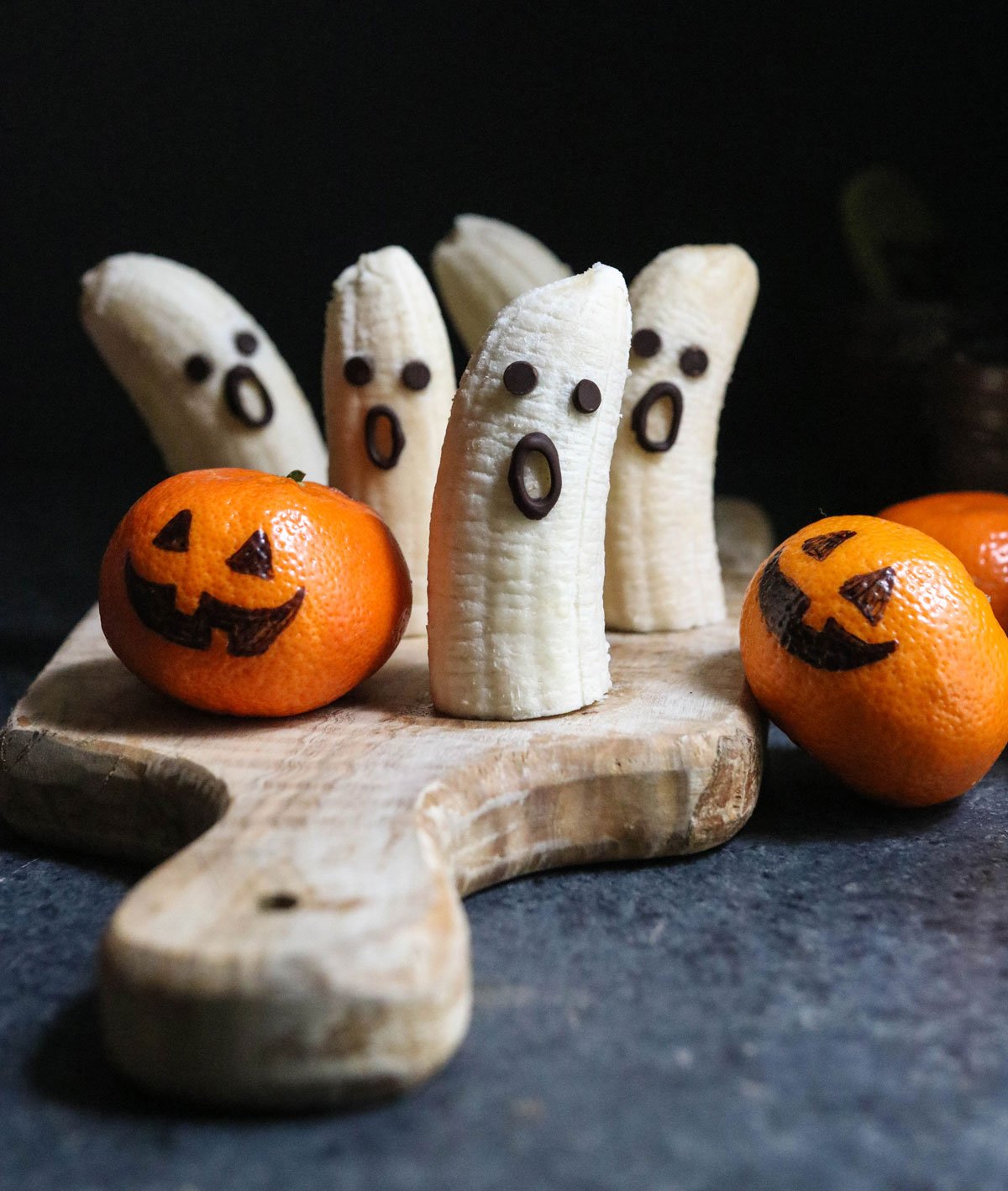 Draw a cute little jack-o-lantern face on your mandarin oranges for a fun lunchbox treat, too. No carving necessary!
4. Mummy Granola Bars
Here's another fun snack that doesn't take much extra effort. Drizzle homemade granola bars with melted dark chocolate, and then stick some crunchy coconut flakes on top for a "mummy" look.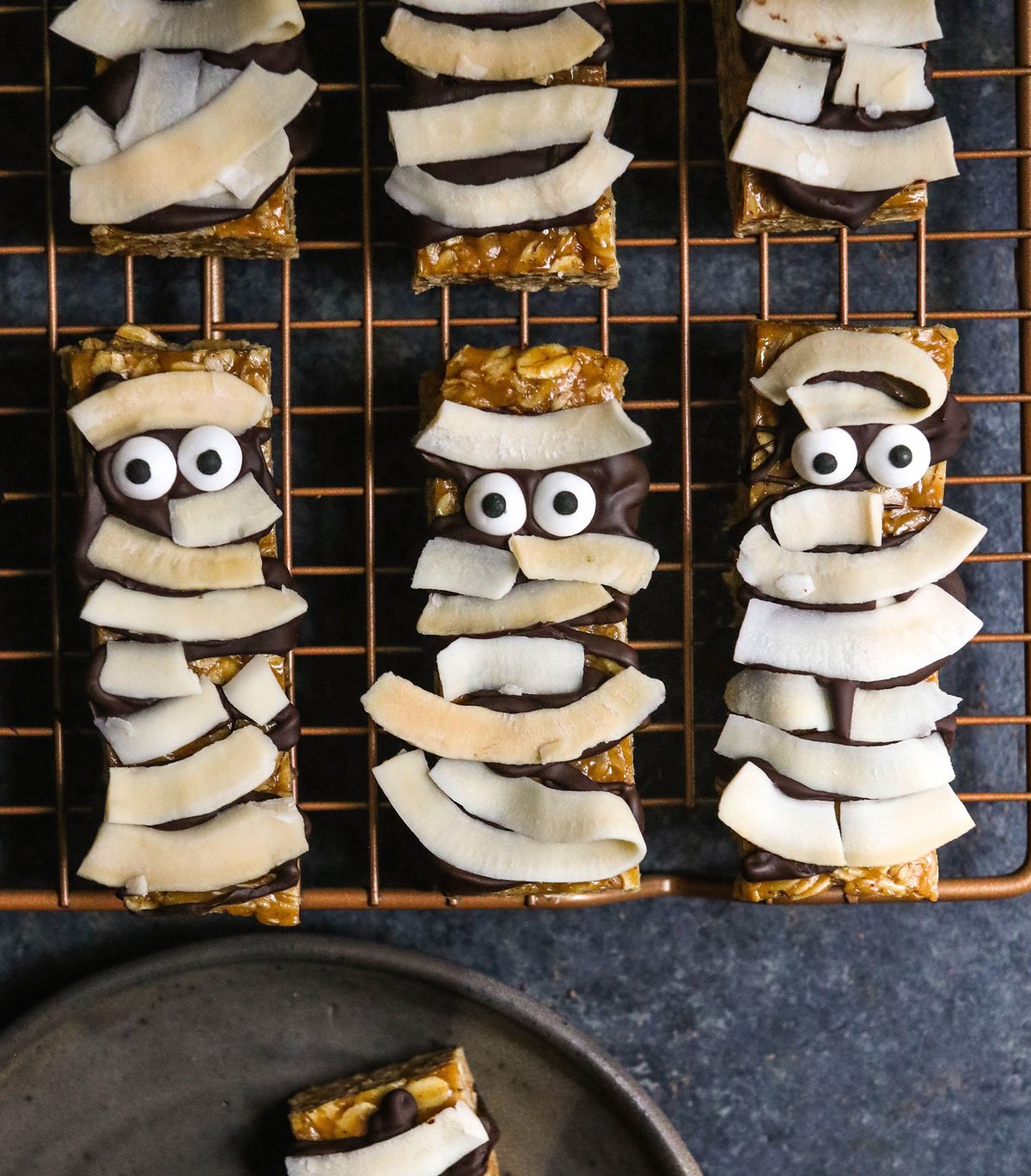 I added a few candy googly eyes on mine for the cuteness-factor, but I know my kids won't actually eat those. (They are too hard for their teeth, so they just pick them off.)
You can also use blueberries as the eyes, 2 chocolate chips, or mini marshmallows, if you prefer!
5. Apple Monster Mouths
You've probably seen these on Pinterest, and this is my slightly lazier (and faster) take on it. Take a quarter of an apple, then slice a little wedge out of the outside.
Spread peanut butter or date caramel inside the wedge you just cut out.
Instead of attempting to stick the sunflower seeds physically into the apple to look like real teeth, I just lay them down in the caramel sauce. I think it gets the look across, without as much effort. You could also add some eyeballs to these, but again… that's extra effort.
Add a sliced strawberry for a "tongue" if you'd like to!
6. Frankenstein Cookies
Take my mint matcha cookies (which are naturally green!) and give them a Frankenstein makeover! You can use a cookie cutter if you have it, or just slice them into rectangles for a more monster-shaped head.
I used a full tablespoon of matcha powder in this version, to give the cookies an extra-green hue, and I can't taste the matcha flavor at all, thanks to the addition of peppermint.
I use melted dark chocolate for decoration, just like the original recipe calls for, but feel free to use those candy googly eyes again, if you want to save some time!
I'm including a printable tutorial for these at the bottom of this post, if you want more guidance.
7. Witch Fingers
Matcha makes these Witch Finger cookies green, too!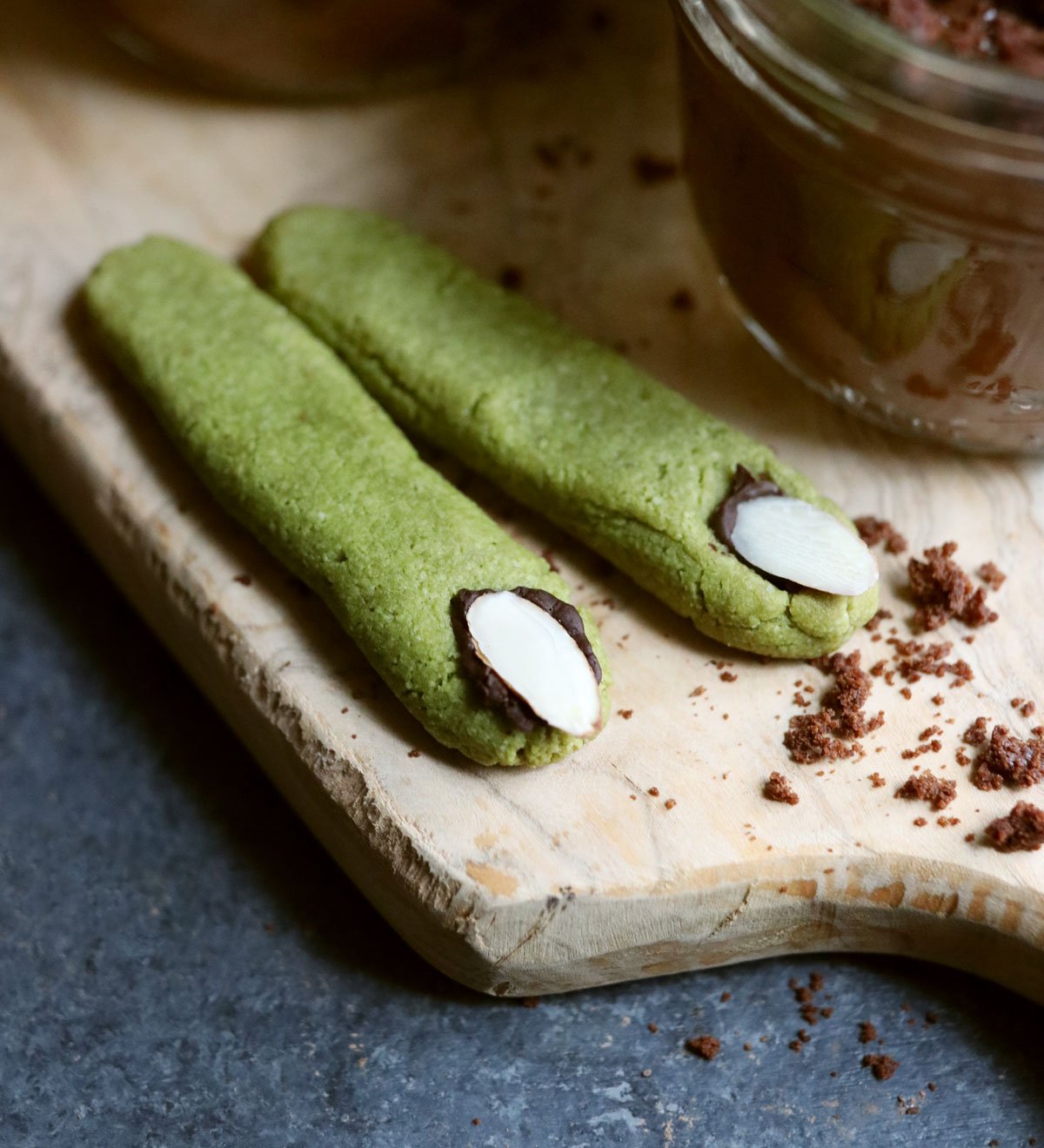 Add a dark chocolate chip at the end, and when the cookies are done baking you can press a sliced almond into the melted chocolate as a "finger nail." The almond will stick in place once the chocolate hardens!
8. Date Caramel
If you want to host a healthy Halloween party, serve this naturally-sweet date caramel dip with sliced apples.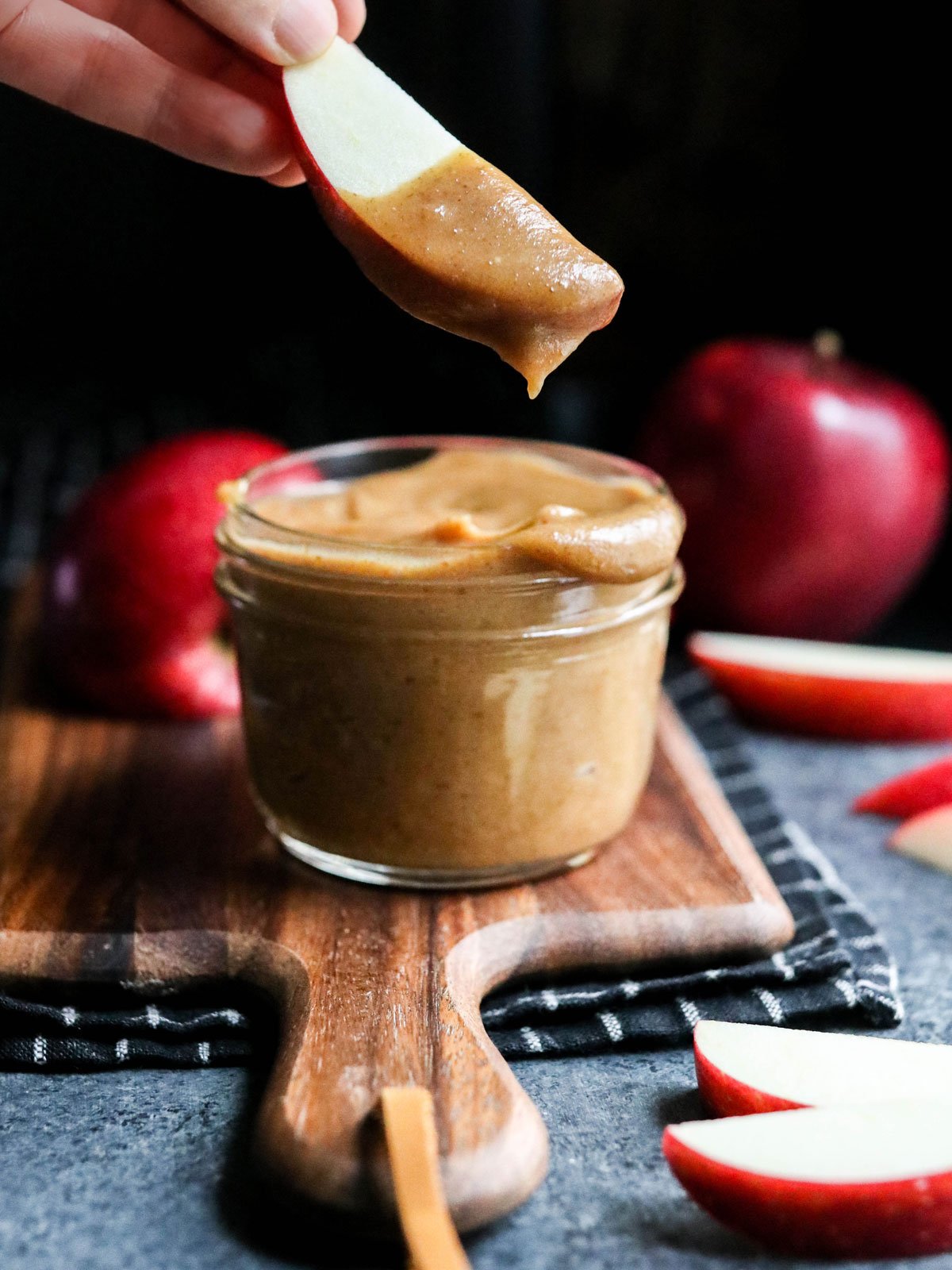 You get to control the texture of this recipe, so add less liquid for a thick caramel (like one you could use in a candy bar), or add more liquid to make it dip-able.
9. Homemade Butterfingers
If you want something that tastes like the candy you'd buy at the store, make homemade Butterfingers.
These crispy, peanut buttery candy bars are made with just 5 all-natural ingredients and taste ridiculously authentic.
10. Healthy Snickers Bars
Yes, you can make vegan Snickers bars at home!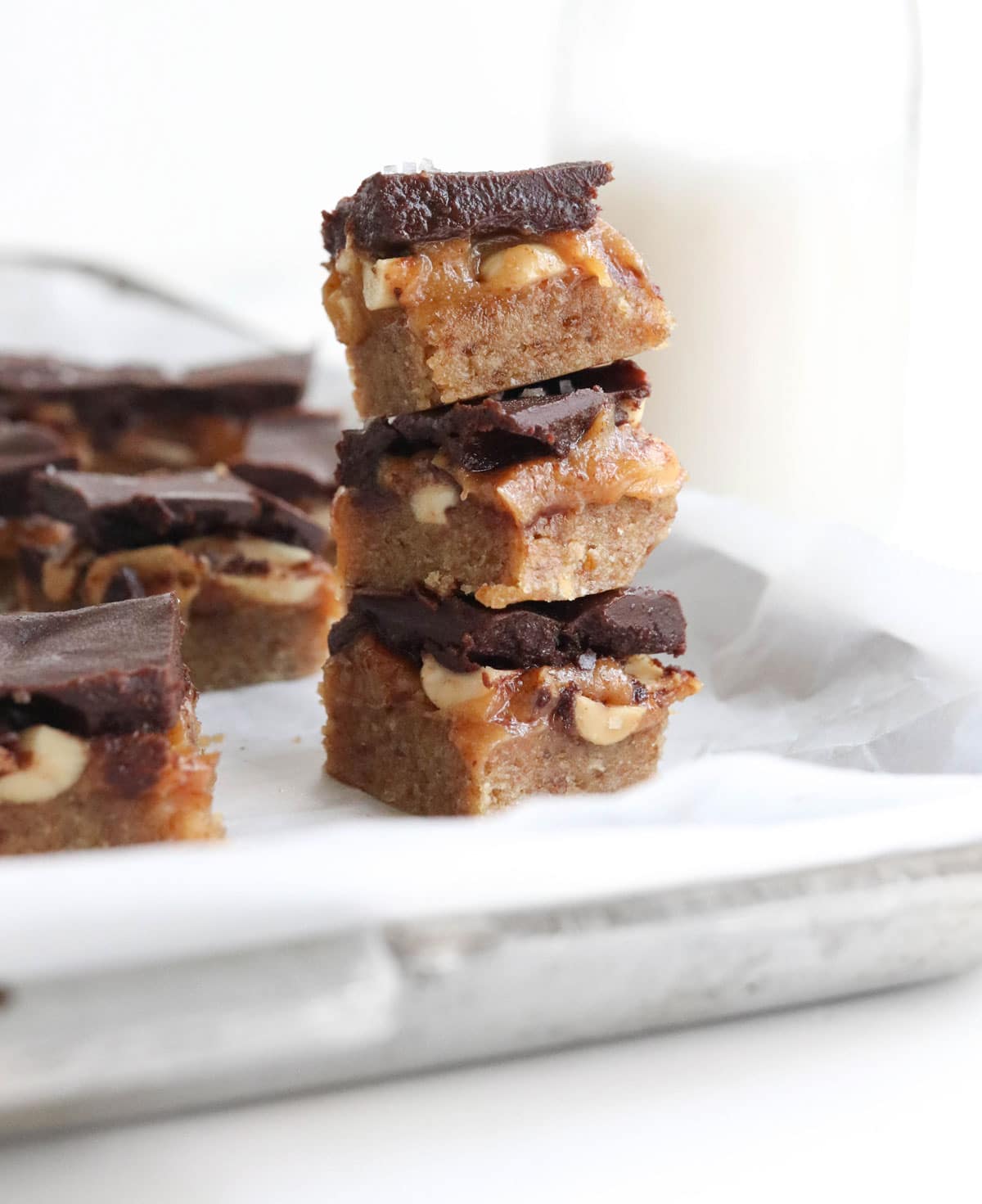 These no-bake candy bars feature a homemade date-sweetened nougat, topped with a fast homemade caramel layer, crunchy peanuts, and a naturally-sweet chocolate coating.
13. Halloween Cupcakes
Take your favorite chocolate cupcake recipe, and top with colorful sweet potato frosting!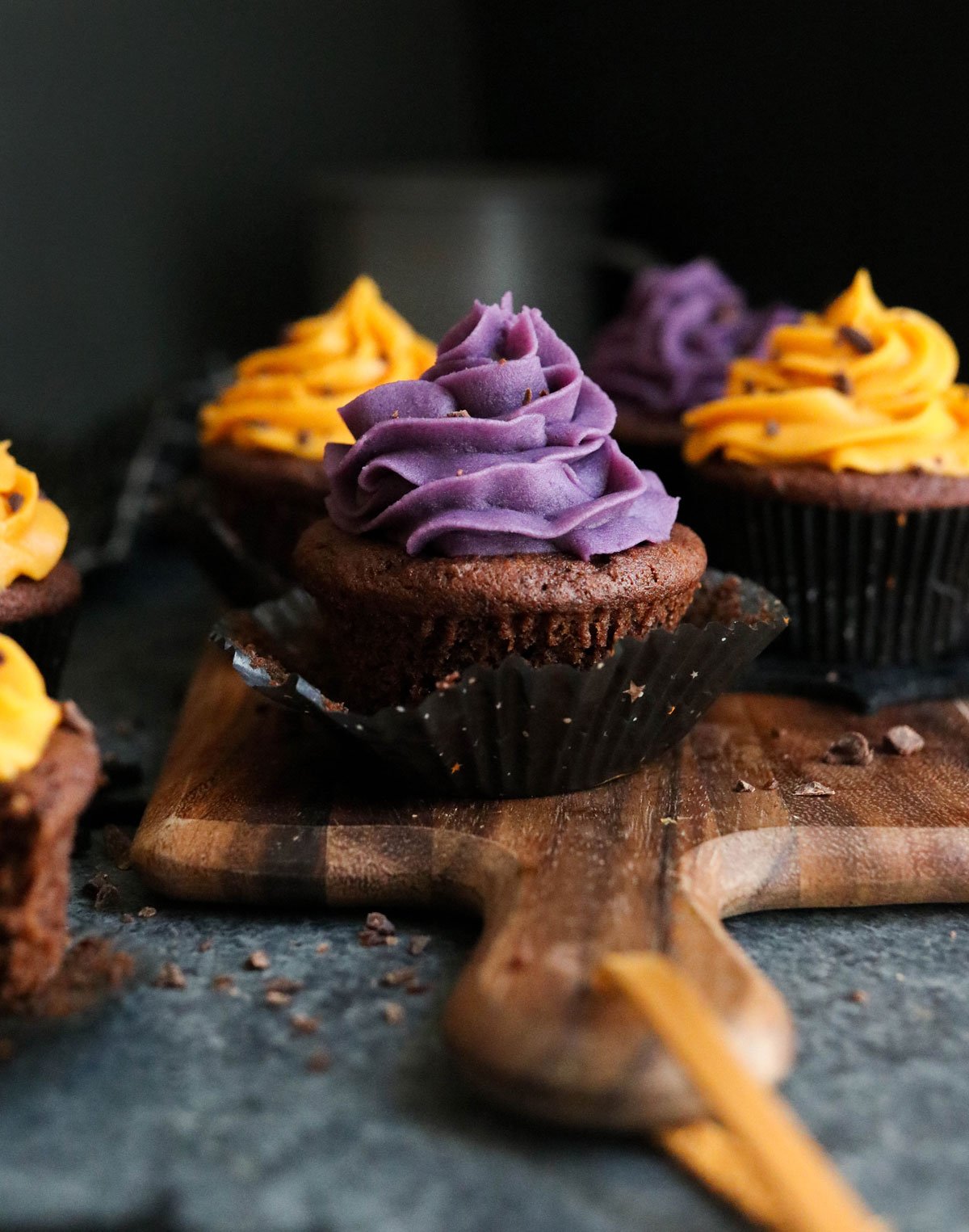 Sweet potatoes come in two colors that are perfect for Halloween– orange and purple! (The purple potatoes I find are called Stokes Purple potatoes.)
You can use the same frosting recipe using either variety of potato. It looks super-festive, without using any artificial food dyes.
12. Date-Sweetened Peanut Butter Pumpkins
These Chocolate Peanut Butter Pumpkins are a healthier alternative to the popular Reese's version, and you can make them into all sorts of fun shapes!
Top with melted dark chocolate or your own homemade chocolate coating for a lower sugar treat.
13.  Mini Vegan Peanut Butter Cups
Make your own delicious peanut butter cup candy at home! These mini peanut butter cups take just a few minutes to assemble. Sprinkle some sea salt on top to take the flavor up a notch!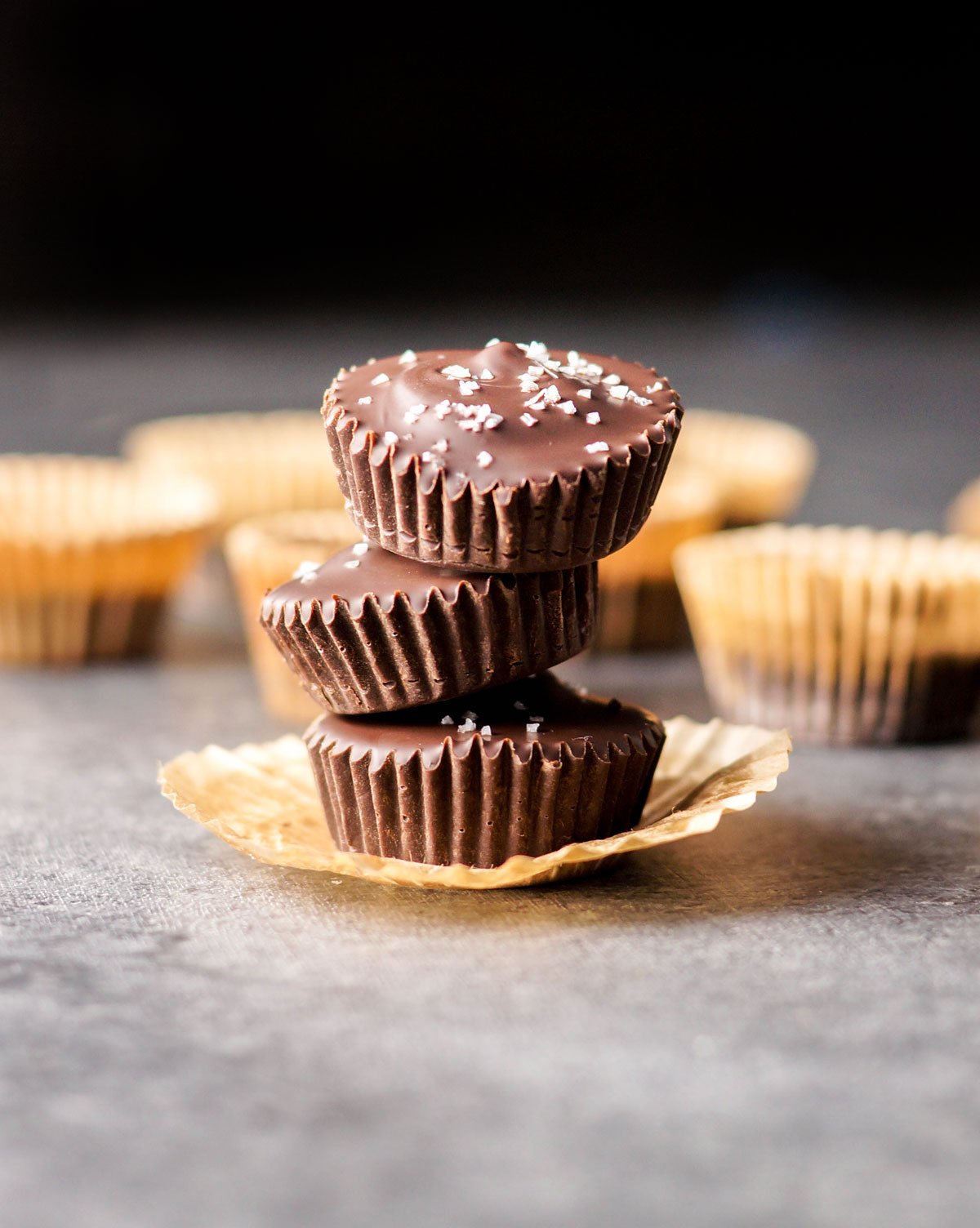 For an extra-decadent treat, try stuffing them into a flourless peanut butter cookie. My Flourless Peanut Butter Temptations are addictive!
Healthy Halloween Treats
These healthy halloween treats are super-festive, without using artificial food dyes. Use matcha to make naturally green Frankenstein cookies, dipped in dark chocolate for a lower-sugar Halloween dessert.
Preheat the oven to 350ºF and line a baking sheet with parchment paper.

In a large bowl, combine the almond flour, maple syrup, coconut oil, matcha powder, peppermint, baking soda, vinegar, and salt. Stir well, until a thick, uniform dough is formed. It will be slightly sticky, and if you over-stir, it will start to get oily, so be careful to only stir as much as needed.

For cut-out cookies, use a rolling pin to roll the dough out on a big sheet of parchment paper, about 1/4-inch thick. Use a cookie cutter (I used one that's in the shape of a foot, but looks similar to the shape a Frankenstein head) or use a knife to cut the cookies into a rectangle shape.

Arrange the cookie shapes on the prepared baking sheet, and bake until the cookies are a light green color and just barely starting to turn golden around the edges, about 10 minutes. They will firm up as they cool.

Once the cookies are cool, melt the dark chocolate chips and dip the top of the cookies into the melted chocolate to create Frankenstein's "hair." I pour the rest of the melted chocolate into a piping bag, and pipe on some eyes, a mouth, and a scar on his forehead. I think it's fun to drizzle some extra chocolate in his hair for texture, too.

Let the chocolate cool completely (you can place the pan of cookies in the fridge or freezer to speed up the process) then serve chilled or at room temperature. These cookies will last on the counter for up to 3 days, but they will start to dry out over time. If you stick them in an airtight container on the counter, they will get softer. For best shelf life, store them in an airtight container in the fridge for up to 2 weeks, or in the freezer for up to 6 months.
Nutrition information is per cookie, assuming you have 16 cookies coated in all of the chocolate that you melt. This information is automatically calculated, and is just an estimate, not a guarantee.
Blanched almond flour is important for the color of these cookies. If you use almond meal (with has flecks of almond skin) the cookies will reflect that, and will have a more cake-like texture.
Calories: 179kcal | Carbohydrates: 13g | Protein: 4g | Fat: 13g | Saturated Fat: 6g | Cholesterol: 1mg | Sodium: 47mg | Potassium: 83mg | Fiber: 2g | Sugar: 7g | Vitamin A: 47IU | Vitamin C: 1mg | Calcium: 69mg | Iron: 1mg
I hope you'll enjoy these healthy Halloween treats, and I can't wait to hear which ones you try! Please leave a comment below to let me know how it goes, and if you have any more suggestions, I'd love to hear about those, too!
Reader Feedback: What are your Halloween plans this year?

SaveSave
SaveSaveSaveSave
SaveSaveSaveSave